VMS SOLUTIONS
Digifort products are carefully designed to offer the highest quality video monitoring and management software, exceeding market standards and expectations, while providing tailor-made features for a wide range of applications. Today it has more than 240 manufacturers worldwide and over 6500 models of devices integrated to the system, complete alarm system and automation, reading automobile license plate, intelligent module of image analysis, integration with any access control system, biometrics, CRM, ERP, city management software, among others.
Digifort has created the Digifort Mobile Client, an application developed in java platform for mobile devices like tablets and smartphones (Android and IOs) that allows the visualization and playback of the images of IP cameras and encoders, ideal solution for companies and Homes, where at any time the user can view and control cameras, PTZ, activate presets or trigger events from any location, via Digifort Server, being a complement, not an additional module, not requiring the use of a license, Already available from version 7.
---
DGF EXPLORER
Used in small condominiums, offices, residences, small shops and small businesses in general. A reliable solution with essential features, having as main characteristics the recording and monitoring of images of IP and / or analog cameras connected through DVRs, NVRs or Video Encoders.
DGF STANDARD
Recommended for customers who need an application for up to 32 cameras at an affordable cost and with some more advanced features such as Integrated Web Server, with this edition you can control your PTZ cameras through the mouse, providing the operator with just the click on the Control your features.
DGF PROFESSIONAL
For the medium and large client that needs features such as PTZ by joystick, synoptic map, up to 16 unique user profiles and unlimited connections, web server, camera view through the cell phone, integration with optional Digifort modules, Digifort Professional account also with integration Of the Alarm and Automation modules and Digifort Evidence, giving the customer the complete monitoring, alarm and automation solution.
DGF ENTERPRISE
Recommended for medium and large users I need a system with unlimited tools and functionality, alarm solutions, access control and automation. In addition to the features available in other versions of the software, this edition has the possibility of integration of alarm and automation modules, unlimited number of cameras, IP filters and server status reports.
With the Digifort Mobile Camera application, you can turn your Android or iOS smartphone or tablet into a camera by streaming live video to your Digifort server, allowing viewing on the monitoring client or by other Mobile Clients, this function consumes only one license Camera, as if it were an IP device, allowing total mobility, facilitating the verification of construction sites, containers, among other diverse opportunities of use, of great use for the monitoring system as it allows recording of images where it is not possible to install Cameras.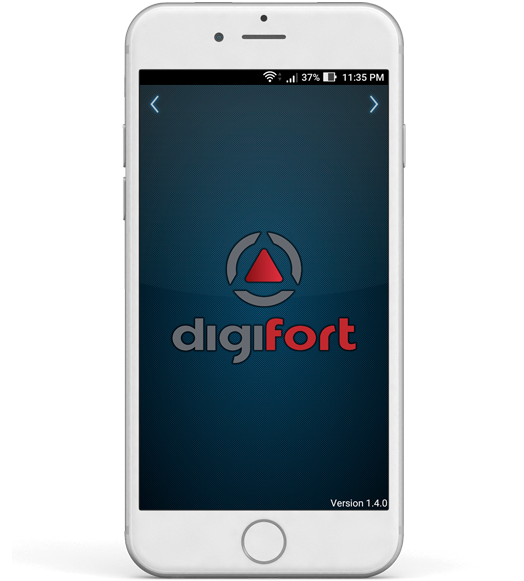 Practical, fast, mobile, versatile and easy to set up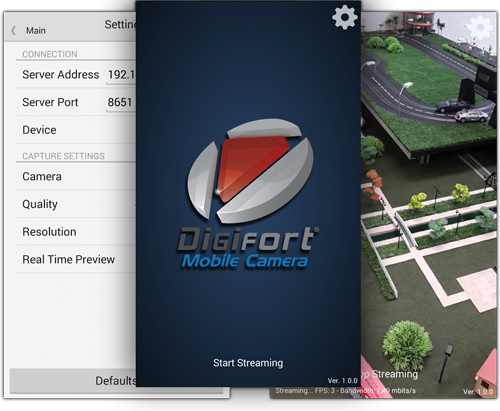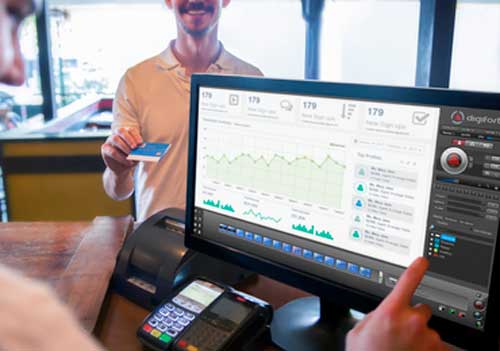 Digifort InSight is a screen capture module that is capable of operating on any computer running the Windows operating system, which functions as an IP camera, encapsulating a camera license and generating video stream to the Digifort server containing the live video Of the screen of the desktop where it is installed. Allows the visualization in the Monitoring Client of Digifort as well as of all the monitors of the workstation in which it is installed, being able to display a set of screens in the grid interface, simulating a Video Wall, among several other solutions. Being commonly used in boxes or points of sale, it allows the recording of user actions on the screen in the form of video, as well as the monitoring and access of stations in places with little access. The system even provides remote control of the workstation, allowing to operate multiple systems from a single screen.